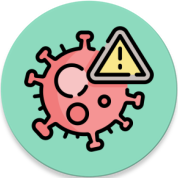 Click here to download on your Android mobile phone.
CV19SelfDefensev1.1.apk | Installation Guide
V1.1 Release Notes
09/07/2020
In this new release, we have updated the following features:
The test center database now includes 5012 test centers across 50 states and Puerto Rico.
Automated scanning for social distance nudge is updated to occur every minute.
User feedback survey is updated accordingly to the studies approved by FSU Office for Human Subjects Protection with IRB protocol STUDY00001550, MOD00000679 and STUDY00001612.
V1.0 Release Notes
08/05/2020
The iSensor Lab is pleased to announce its first public release (version 1.0) of the android mobile application; CV19 SelfDefense. The CV19 SelfDefense mobile app is a research project funded by Florida State University Collaborative Collision Seed Grant (CC-045704, 5/11/20 – 8/18/20). Interested users may download this version on an android phone, register an account with the iSensor server, and login to their personal account with a dashboard of features and tools to begin utilizing the services provided that help users to defend themselves during the Coronavirus pandemic. Dashboard features include the following:
News Updates: Users will receive an RSS feed of recent postings from the World Health Organization (WHO), Centers for Disease Control and Prevention (CDC) and Department of Health and Human Services (HHS).
Test Center Locator: Users can identify nearby test centers based on user's current geo-location. There are approximately 4,700 test centers across 40 states in the current database. Please contact us at isensor.games@gmail.com if you have comments.
Symptoms Checker: Users can assess development of their own symptoms based on CDC guidelines.
Social Distance 'Nudge': Adopting Bluetooth technology, users can scan the surrounding areas – via automated or manual scan – to get "nudges" (phone vibration and notification of other nearby devices). This feature also helps users to identify and remember contacts and safe devices of close interactions, and thus create a 'safe social pod' when necessary.
Quarantine Monitor: This feature helps users to monitor and keep track of personal whereabouts during a self-quarantine period of 14 days. Multiple home locations – where users feel safe – can be added to assist users' memory. A summary report will be generated at the end of the quarantine period.
Account Profile: Users can change passwords, login and logout of the app from the negation drawer by pulling from the left-hand side of the app.
We hope this tool can help users not only receive up-to-date information from the healthcare authorities, but also defend heir personal health against Coronavirus. Click here for the tutorial. We welcome your feedback.
PRIVACY STATEMENT: Users' privacy and data confidentiality are important to us. For users that register on the iSensor website, we store personal information provided in a user profile. All users can see, edit, or delete their personal information at any time. The iSensor website is securely located and administered by the FSU College of Communication and its Information Technical Support team. All transactions and access are encrypted, and password protected. Users' cell phone data (including RSSI signals and geo coordinates) will be stored on each user's phone. This data will not be accessed or used by website administrators or researchers of the study. You can uninstall the app at any time and associated usage data will be removed from the phone as well as from the server.
Click here for the app tutorial video.